Computer Numerical Control (CNC)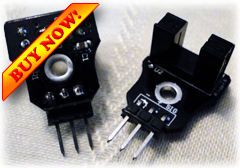 These little opto-interrupter modules are used in CNC or RepRap machines so the machine knows when the moving head has moved beyond its boundaries. They can also be used by the machine at startup to determine where the head is and thus move the head to the home position. In my case I use two of them per axis as limit indicators and one of them also functions to find the home position.
One of the issues with switching to opto-interrupters is that on thier own they cannot be tied together like mechanical switches and thus require more inputs on the controller or extra circuitry such as I implemented with these modules.
Before creating these modules I used mechanical switches but I found the position of home wasn't repeatable. Part of the problem was in the mechanics of how the switch was activated. If the machine was moved beyond the switch, usually by hand when powered off, it would often cause minor switch damage. So on a single axis I switched to an optical interrupter using a predecessor of these devices, and after testing I found it to be 100% repeatable finding home and obviously without any mechanical issues.
These modules make switching from mechanical to optical easy:
They can be easily wired together to provide a single output which is activated when any of the optical interrupters are obstructed.
The optical interrupter output is filtered with a schmitt-trigger buffer to provide a cleaner output.
Only 3 pins, Power, GND and Signal.
Power filter capacitor is already on the board as I assume the wire run back to the controller may be long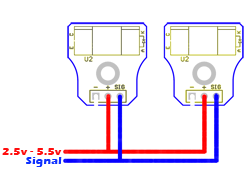 Normally, the output signal line will be in the HIGH state. Once obstructed, the signal line will pull the signal bus to ground (LOW). These small devices contain circuitry to filter the input power and to allow these devices to be strung together in a Wired-OR configuration. Wired-OR means that the Signal pin of multiple devices can be tied together and if any of the devices are obstructed the signal line will output a LOW signal. For example, use two of these devices in the Wired-OR configuration as limit switches on each end of an axis. When tying their outputs together only 1 input on the computer or controller is required.
3pin RC Servo wire cables make great cables for wiring to these devices and the color-coding of the wires match standard RC servo cable color-coding. (If not standard color coding, you can usually use a small pin to release each wire and move to the correct positions.
I made more of the devices and I am making them available for sale. They are $8.50 USD a piece and the shipping cost is by USPS Flat-Rate Small Box to anywhere in the US for $4.85 for any quantity. I will deliver internationally without a handling charge but delivery costs may vary. Each device is tested before delivery and guaranteed not to be DOA. I will also accept returns for a full refund minus shipping within 14 days after you receive the product if you are not happy so long as the product is in the same condition it was received. By default, the 3-pin right-angle header is not soldered into place but is included with the device just in case you prefer to solder wires directly to the module. If you prefer this header to be pre-soldered make a request during your paypal checkout.
(Buy Now) Opto-Interrupter Electronic Limit/Home Switch on Ebay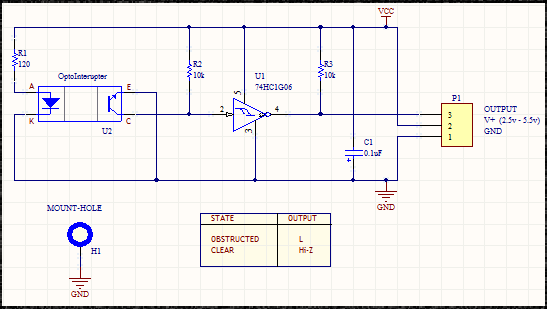 Visitor Poll
What sort of peripherals do you desire in a robotics main board? (you may vote more than once.)
Who's Online
We have 31 guests online