Computer Numerical Control (CNC)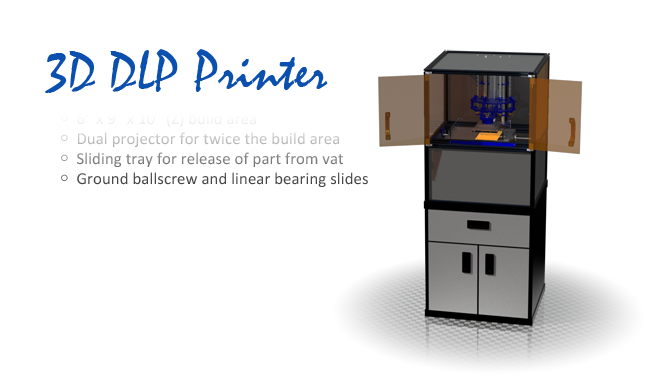 This is my personal endeavor to make a 3D printer. It will be used to make prototype encolsures and parts for other machines. This machine will not be for sale, it's purely for personal use. The parts I am using would be much too expensive to make this product a commercial endeavor. Feel free to use any of the ideas here in your own project. I am probably not the first one to use it anyway. Much of these images are still sketches and may not be completely indicative of the final assembly.
Computer Numerical Control (CNC)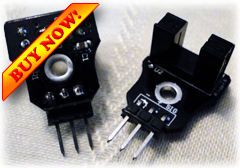 These little opto-interrupter modules are used in CNC or RepRap machines so the machine knows when the moving head has moved beyond its boundaries. They can also be used by the machine at startup to determine where the head is and thus move the head to the home position. In my case I use two of them per axis as limit indicators and one of them also functions to find the home position.
One of the issues with switching to opto-interrupters is that on thier own they cannot be tied together like mechanical switches and thus require more inputs on the controller or extra circuitry such as I implemented with these modules.
Computer Numerical Control (CNC)
I am using a #78 drill bit to drill the vias on this PCB. It is covered with white celophane type of tape as this was used to test my through plating using conductive liquid. (See this article.)
The machine drilled the small holes very well and could not be done by hand without breaking the small bit. I have also used #87 drill bits which drill around 10mil holes! 
Computer Numerical Control (CNC)

My CNC Mill is finally completed after about 9 months of obsessive effort. I have already milled a few parts for a second CNC machine, a plastic doggy bone and a few PCBs have been drilled and routed. The plastic doggy bone was only 1 x 1/3 inches but the detail was fantastic!
The accuracy exceeds the measurability of my digital caliper (1/2mil resolution) so I am quite impressed with the results! So far, I am limiting my materials to plastic, machinable wax and Butterboard(tm) but will cut some aluminum shortly.
I have included some details on the construction with a few pictures.
Computer Numerical Control (CNC)
An Introduction by Ed Nisley
Watch an informative introduction to CNC design by Ed Nisley. If you are new to CNC, watch it! One thing it illustrates is a CNC machine is not like your printer! In other words, creating cnc parts is not a draw your workpiece and hit print process. There are a few important steps in between.
This slideshow presentation was presented at the Cabin Fever Expo in York, PA in January 2008.
 CNC Intro by Nisley (8.11 MB)
 CNC Intro by Nisley (Lo-Res version) (1.63 MB)
Visitor Poll
What sort of peripherals do you desire in a robotics main board? (you may vote more than once.)
Who's Online
We have 58 guests online